0BFileMaker
Synopsis
Screenshot
Documentation (Unavailable)
FAQ (Unavailable)
Status
Download

0BFileMaker is an incredibly difficult product to describe, as it fulfills an internal and somewhat esoteric purpose. I needed a way to allow files that have been moved, usually to a remote location, to still have an observable presence on the local systems but with a minimal footprint.
To do this, 0BFileMaker creates a file with no contents (known as 0-byte files), but with the original file name and other valuable information in the file name. Due to this, a Windows search of a drive that included these files would turn up results even for files no longer on the system.
This advantage was made even greater with additional Bitspring products: ReinDir (the indexing file search utility) could read the 0-byte files as treat them as if they were actually on the drive, and Decho could include them in searches for duplicate files. Additionally, ReinDir could compile any number of 0-byte files into a single .filesproxy file, itself readible by both ReinDir and Decho which would treat the contents as all the files indexed there.
Due to the strange and internal-oriented nature of this product, there is no documentation and it is provided as-is and without support.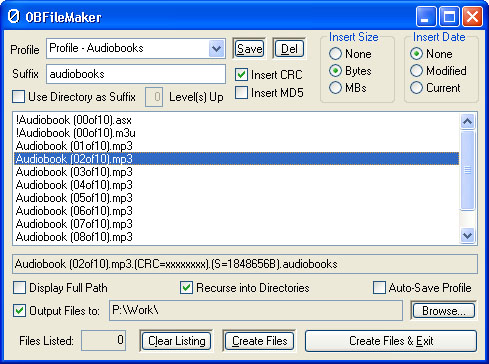 Status (including private betas):
STATUS:
-----
PLANS:

(TODO)	Make multithreaded and abortable

-----
VERSION HISTORY:

2.0.552.0 - Public Beta Release
(FIXED)	When run from context menu, working directory is not set [Added selection of a Profile Directory]
(ADDED)	Add "Directory Name as Suffix" to Profile

2.0.531.0 - Private Beta Release
(ADDED)	Profile support
(ADDED)	Right-click gesture support
(ADDED)	Keyboard accelerator support
(ADDED)	Dialog resize support
(ADDED)	Saving of dialog size and position
(ADDED)	Drag & Drop support
(ADDED)	Recursion into directories & ignoring of directories
(ADDED)	Sample output display
(ADDED)	MD5 support
(MOD)	Renamed from DBFileMaker to 0BFileMaker
(MOD)	Modified button design and default button handling

1.0.0.0 - Unreleased
(ADDED)	Original functionality