Contents
Home
Products
Consulting
LWAssistant
D. Chamber
Renamer
Flambé
PARtriculation
Decho
ReinDir
Docs
FAQ
Status
Download
HashMaker
SFVWatcher
TruCounter
Oventimer
AVStats
BackMod
mySnortW…
0BFileMaker
Other
Archives
Docs
Download
Mobile Products
Articles
Greg's Site
About...
Forum
Sitemap
---
Entries in orange leave the contents driven area of the site. Press your browser's back button to return.
---
This site contains no ActiveX, Java, JavaScript, Flash or Frames for your comfort.
---
ReinDir [Pronounced Reindeer]
Product Synopsis
Screenshot
Product Documentation [Primer Only]
FAQ (Unavailable)
Status
Download

ReinDir is a file name search utility for selected directories by pre-cataloguing the files using an explorer-like interface. Pre-cataloguing of files allows for fast searches but does not update automatically as files in those directories change.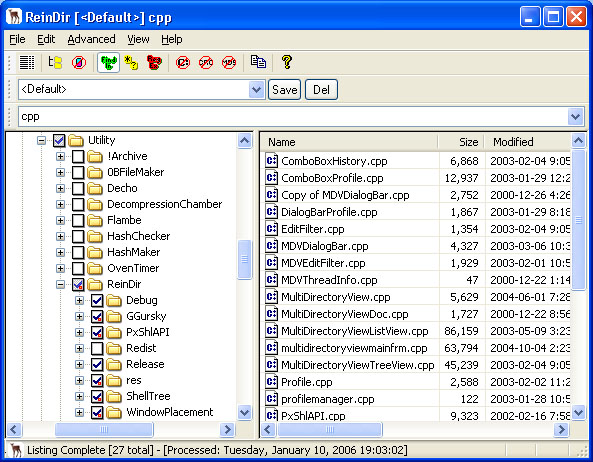 Status (including private betas):
STATUS:

(TODO)	User-selectable priority class for when idle, indexing, and filtering
(TODO)	Tree-view clear operation
(FIX)	Silent crash when it hit ~800M on my 512M system
(TODO)	Implement the new clipboard functions properly (not keyboard only)
(TODO)	Make multithreaded (so UI continues to update during data collection, sorting and filtering with optional progress bar)
(TODO)	Possibly allow to run in client/server modes across TCP/IP (and possibly add P2P file transfer capability to this)

-----
VERSION HISTORY:

0.4.814.0 - Private Beta Release
(ADDED)	Replace "Edit" commands in the filter edit box
(ADDED)	Shift focus to list-view upon Select All
(FIXED)	Delete and Backspace keys should change focus to the Filter edit box
(ADDED)	Allow copying more information to the clipboard (Shift+Ctrl+C, Alt+Ctrl+C)
(ADDED)	Display time of last update
(ADDED)	Display statistics of currently selected files
(ADDED)	Save location information of real files into .filesproxy files
(ADDED)	Complete profile system (currently only supporting directory selections)
(ADDED)	Rename capability (R-Click menu or F2)
(FIXED)	Move operations should be completely reliable now and has generally been improved (free space check, auto-directory default)
(FIXED)	Move operation no longer initiates a refresh of the file list, instead, it invalidates the moved files
(ADDED)	Drag-and-drop out of ReinDir (for copy and move operations into Explorer or other appropriate drop target
(ADDED)	Option to sort results by path instead of filename
(ADDED)	Display profile name and filter string in title bar

0.3.603.0 - Public Beta Release
(ADDED)	Added Windows XP Themes support
(NOTE)	Built with VisualStudio.NET (May cause issues)
(FIXED)	Fixed intermittent auto-search after filter modification

0.2.598.0 - Private Beta Release
(FIXED)	A redraw is forced after changing the filter (MFC was supposed to do this automatically, but isn't)
(FIXED)	AND operations now stop after the first evaluation failure

0.2.593.0 - Private Beta Release
(ADDED)	Changed to virtual list-view to grealy improve performance and allow for new advanced features
(ADDED)	Read contents of *.filesproxy files into file list
(ADDED)	Write file list into *.filesproxy file
(ADDED)	 now selects all entries in file list
(ADDED)	Read proxy title of 0BFiles into file list
(ADDED)	Entry background colors to represent proxies
(ADDED)	 forces a filter change immediately
(ADDED)	Add AND(:) and OR(|) to the standard filtering
(ADDED) Add DOS wildcard filtering with AND(:) and OR(|)
(ADDED)	Add Regular Expression (Regex) filtering (without AND and OR)
(ADDED)	Improved support for 0BFiles
(ADDED)	Certain fields can be ignored before data accumulation in order to reduce memory footprint
(ADDED)	Add accelerators for almost everything (Keyboard functions)
(FIXED)	Fix "Delete Selected"
(ADDED)	Created Primer temporarily in lieu of proper documentation

0.1.513.0 - Private Beta Release
(FIXED)	Right pane disables when no items are in it keyboard input to filter
(ADDED)	Pseudo-intelligent delay for filter change

0.1.502.0 - Original Private Beta Release
(ADDED)	Initial functionality