SFVWatcher
Product Synopsis
Screenshot
Product Documentation [Primer Only]
FAQ (Unavailable)
Status
Download

SFVWatcher watches removable media drives (like CD-ROM drives). If media is inserted that has a .SFV CRC32 File Verification file in the root of the media, it verifies the files contained in the .SFV file against the data on the media.
SFVWatcher was developed solely for use by the author and is not truly a "release" product. Therefore it lacks features the author considers important in a release product such as:
Multithreaded user-interface. Because the user-interface and worker operations are contained in the same thread, the SFVWatcher user-interface "freezes" when performing worker operations like calculating CRC32s.
Saving options to registry. No options will be saved between SFVWatcher sessions.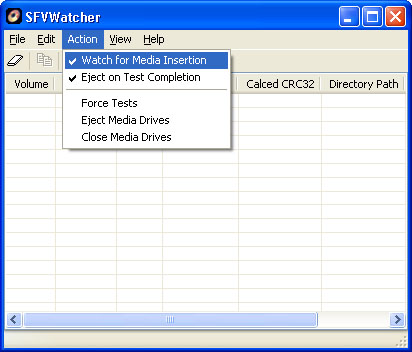 Status (including private betas):
STATUS:

(TODO)	Make multithreaded (so UI continues to update during CRC32 calculation)
(TODO)	Save settings between sessions

-----
VERSION HISTORY:

0.1.196.0 - Original Public Beta Release
(ADDED)	Initial functionality