Contents
Home
Products
Consulting
LWAssistant
D. Chamber
Renamer
Flambé
PARtriculation
Decho
ReinDir
HashMaker
SFVWatcher
TruCounter
Oventimer
Status
Download
AVStats
BackMod
mySnortW…
0BFileMaker
Other
Archives
Docs
Download
Mobile Products
Articles
Greg's Site
About...
Forum
Sitemap
---
Entries in orange leave the contents driven area of the site. Press your browser's back button to return.
---
This site contains no ActiveX, Java, JavaScript, Flash or Frames for your comfort.
---
OvenTimer for Windows
Product Synopsis
Status
Download

OvenTimer for Windows is a very simple countdown timer application. I wrote it back in 1997 and, while it evolved slightly over the years, it is essentially the same simple, but frequently useful, application.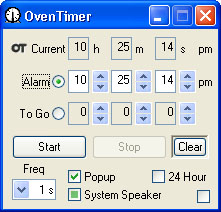 Status (including private betas):
Version History

Version 1.1.0 (Public Release)
·	Added 5x right-click button feature for minutes and seconds.
·	Added XP Theme support.
·	Added "Always on Top" checkbox in lower-right-hand corner.
·	Removed Crash Recovery.
Version 1.0.0 (Public Release)
Version 0.3.0 (Public Beta-Test)
·	Added Crash Recovery.
·	Added automatic zeroing of time units to the right of unit being adjusted.
Version 0.2.0 (Public Beta-Test)
·	Added 12-hour clock capability (and corresponding 24 hour check box).
·	User interface had to be shuffled a bit to accommodate 12-hour clock capability.
Version 0.1.5 (Public Beta-Test)
·	Replaced system speaker code to sound better and be more efficient with system resources.
·	Replaced dialog popup control with checkbox.
·	Added system speaker control checkbox with option for always using the system speaker.
Version 0.1.4 (Public Beta-Test)
·	Added dialog popup control
·	Changed frequency control from radio buttons to a pull-down menu.
Version 0.1.3 (Public Beta-Test)
·	Major Registry Engine Modification
Version 0.1.2 (First Release Version)
·	Added registry capabilities.  Options are now saved to registry.
·	Alarm file can now be selected with a standardized common dialog.
Version 0.1.1 (First Closed Beta-Test)
·	Rewrote entire engine to be more stable and to allow more flexibility for the program.
·	Added ability to set alarm with "Alarm At" and not just "Time Left". 
·	Added advanced functions.
·	Added basic sound file replacement capability.
·	Added spawning capability.
Version 0.1.0 (Original Alpha Application)