Contents
Home
Products
Consulting
LWAssistant
D. Chamber
Renamer
Flambé
Docs
FAQ
Status
Download
PARtriculation
Decho
ReinDir
HashMaker
SFVWatcher
TruCounter
Oventimer
AVStats
BackMod
mySnortW…
0BFileMaker
Other
Archives
Docs
Download
Mobile Products
Articles
Greg's Site
About...
Forum
Sitemap
---
Entries in orange leave the contents driven area of the site. Press your browser's back button to return.
---
This site contains no ActiveX, Java, JavaScript, Flash or Frames for your comfort.
---
Flambé
Product Synopsis
Screenshot
Product Documentation [Primer Only]
FAQ (Unavailable)
Status
Download

Flambé, a front-end application for the Nero - Burning Rom engine, allows for burning of multiple directories each onto their own CD-R(W) or DVD+/-R(W) without requiring user input, increasing the speed and ease of burning multiple discs.
Please consult the Flambé Primer for details on this product.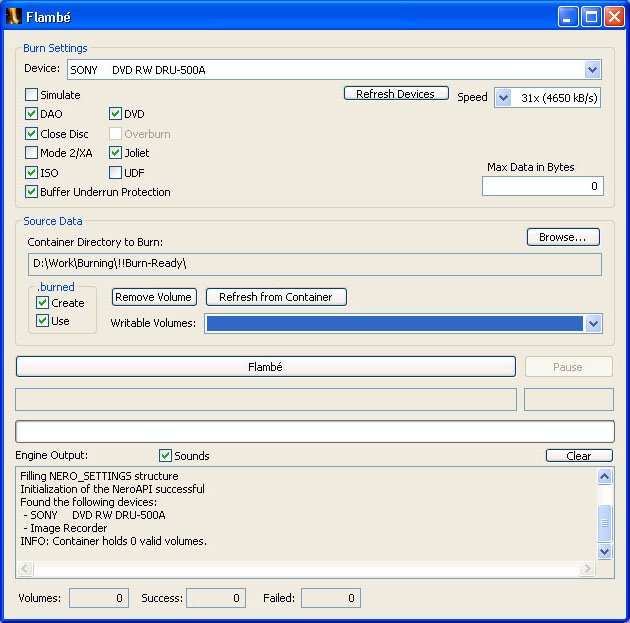 Status (including private betas):
STATUS:

TODO:

        Nothing

NOTES:

I had some problems with failed burns with build 0.3.193.0.  I believe
it was completely a problem related to my hardware, but, just in case,
I rebuilt Flambe with the Nero SDK used on 0.3.192, 1.07.  If you have
any problems with 0.3.195.0, please try 0.3.192.0 instead which never 
failed for me.  But I think this will be completely unnecessary.

-----
VERSION HISTORY:

Upcoming
(MOD)	Container Path list now a drop list, storing multiple paths

0.3.195.0 - Public Beta Release
(ADDED) Support for disabling DVD+R(W) High Compatibility mode
(MOD)	Built with Nero SDK 1.07

0.3.193.0 - Public Beta Release
(ADDED) Support for relaxed Joliet mode (<= 109 character filenames allowed)
(MOD)	Built with Nero SDK 1.08

0.3.192.0 - Public Beta Release
(MOD)   Built with new Nero SDK.  This and subsequent versions of Flambe 
        will only run on systems with Nero 6.0 and later installed.
(ADDED) If a SFV file is found in the root of the burn, Flambe can perform
        a file signature check against it to verify the files burned.
		
0.2.167.0 - Public Beta Release
(NOTE)  Last publically available release supporting Nero 5 and earlier.

0.2.163.0 - Private Beta Release [
(ADDED) (Experimental)UDF Toggle (instead of forced ISO)
(ADDED) (Experimental)ISO Toggle (instead of forced ISO)
(ADDED) (Experimental)Mode 1 - Mode 2/XF Toggle (instead of forced Mode 2/XF)
(ADDED) (Experimental)Joliet Option (instead of forced Joliet)
(ADDED) Program icons

0.2.160.0 - Public Beta Release
(ADDED) DVD Support (DVD checkbox must be checked)
(ADDED) Value of 0 in "Max Data in Bytes", ignores this restriction

0.1.156.0 - Original Public Beta Release
(ADDED) Initial functionality